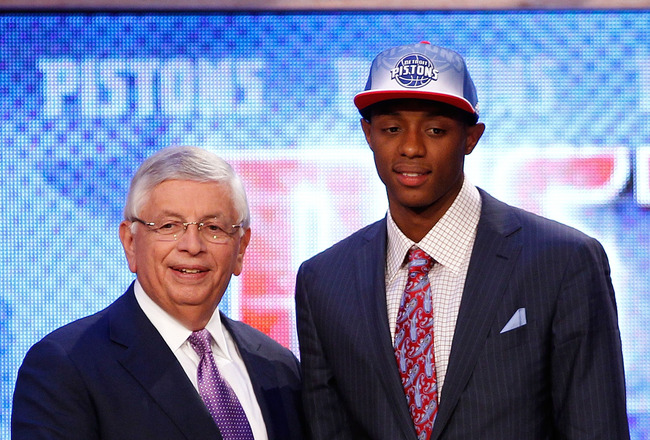 The Pistons just landed a gem.
This fall Brandon Knight, unanimously considered a top 3 pick, will take his talents to Auburn Hills. The Pistons passed on Kemba Walker and took Knight with pick #8. Steal. Brandon is just this years version of the John Calipari 1 and done. I mean lets look at Calipari's PG in the past 4 NBA drafts.
Derrick Rose. Tyreke Evans. John Wall. Brandon Knight. I have a real good feeling about this.
Still, it seems that every year...many NBA prospects in the NBA draft gives any team reason to be optimistic and eventually end up as busts (Dork-O), but there is no denying the raw talent Knight brings to the Pistons. He should immediatly slide into the starting PG position, thus moving Stuckey to SG.
With Greg Monroe and Brandon Knight the Pistons now have 2 budding stars in their lineup.
This marks the beginning of the
Tom Gores era
...and what a good start it has been. Let us hope for many more to come.
* NOTE
The Pistons rounded out the draft by taking
Kyle Singler
and
Vernon Macklin
with their 2nd and 3rd picks.
Grade: A